Update:

The 2016 Mid-Atlantic Korean Karate Championship Series finals are in!
Y
ou can review the overall results for all events
here
.
Please note to simplify the points competition, participation points were not awarded for 2016.

On behalf of Master Peter Oien, Master Jeff Mignogna and Master Gene Garbowsky, we would like to extend a special thank you to Kyo Sa Mary Cayte Reiland who dedicated her time and spent hours going through the results from all three tournaments.

Overall championship awards and runner-up awards will be presented at the 2017 Tang Soo Do Karate College Invitational in March. More details to follow!

Please review the results and contact
Master Garbowsky
with any errors.
The deadline is January 28th, 2017
You can now purchase a Mid-Atlantic Korean Karate Championship Series Patch or Championship Pin. Visit our
store
to have one shipped out to you directly!
MidAtlantic Korean Karate Championship Series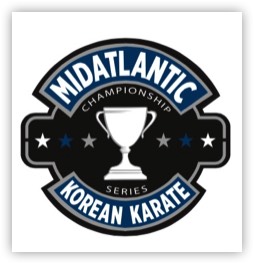 The MidAtlantic Korean Karate Championship Series
serves to allow Traditional Tang Soo Do competitors in the MidAtlantic Region to compete in traditional Korean Karate tournaments which are held throughout the year in the Western Pennsylvania area.

The
purpose
is to provide quality annual traditional karate events which serve to enhance the participants martial art experience across all levels and ranks.
The MidAtlantic Korean Karate Championship Series
allows competitors to accumulate points based on two facets of traditional karate competition which are tournament free sparing and hyung/kata (forms) and to award an overall winner based on level of experience and age at end of the season.


It is open to all competitions who participate in the following traditional Tang Soo Do Karate Championships across the 2017 Tournament Season:


Tang Soo Do Karate College Annual Invitational Championships

Independent Tang Soo Do Association Annual Invitational Championships

North American Karate and Fitness Annual Battle On The Mountain
Any participating schools competitors who participate in any of the tournaments listed are considered eligible participants. For a an understanding of the rules and details of the Championship Series for please see the
Details
area of the website.

For questions or comments please email
Master Gene Garbowsky
.